Curved Metal Framing
Stretch forming metal framing components correctly requires engineering, imagination and attention to detail. At Metal Bending Corporation, we are the industry standard because we have the experience, quality, and customer service that make this complex process seem very simple.
With our methods of forming, we are able to take just about any piece of metal framing material and smoothly stretch it into a specified radius. Our process allows us to keep extremely tight tolerances while maintaining the overall profile shape.
Along with track and angle, Metal Bending Corporation can also curve hat channels, expansion joints, and plaster molds. These shapes can be curved for soffits, arches, curved walls and domes with great repeatability.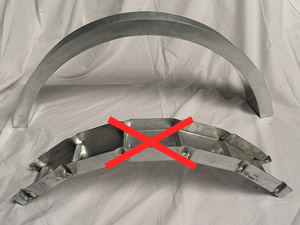 Because material is never "notched" or "crimped," Metal Bending Corporation is able to smoothly curve track as wide as 12" and as thick as 12 gauge. Unlike other processes, our machines stretch material using hydraulic pressure. The hydraulic pressure is what allows us to curve custom profiles such as sloped track and sloped angle without any distortion. Metal Bending Corporation's constantly evolving techniques allow for daily improvement on a process that is already virtually limitless.
Regardless of the complexities involved with your project, if curved metal framing is required, you can rely on Metal Bending Corporation's team of metal curving experts.  Metal Bending Corporation will provide you with economical metal framing that is both functional as well as aesthetically pleasing.